NMB Bank has today 18 November, 2020, launched the first ever ATM machine that can exchange foreign currency, a service that will be placed at all major airports in the country. This is yet another milestone for NMB Banking elevating service delivery to Tanzanians traveling abroad and Tourists entering the country.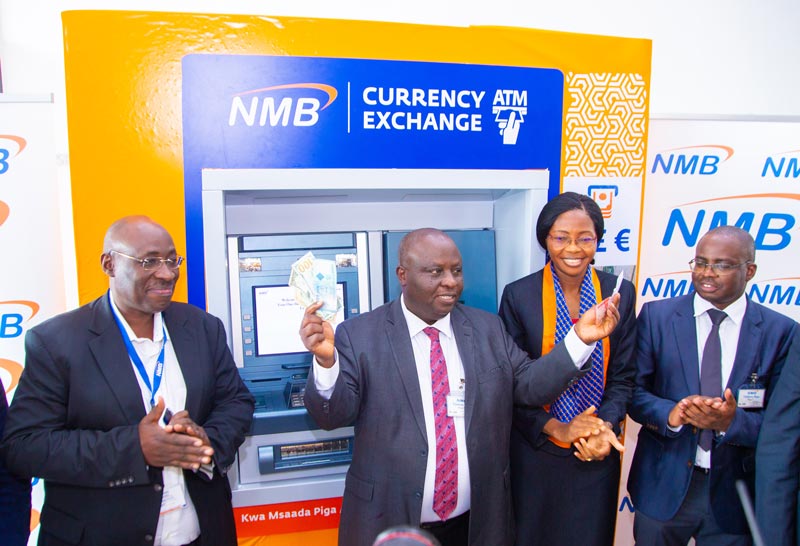 Airports that will benefit from the new ATM's includes Julius Nyerere International Airport – Terminal III, Kilimanjaro International Airport and Amani Karume International Airport Zanzibar. "Customers can from now exchange up to $2,000 at one time at the bank's exchange rate. This means that, a customer can deposit US Dollar, Euro and Pound at the ATM and receive Tanzania Shilling. " Said the NMB Bank's Chief Executive Officer - Ms Ruth Zaipuna.
Now both NMBcustomers and non-customers can exchange their cash foreign currencies completely self-service by using the new NMB currency exchange ATM. They can exchange their USD, GBP and EUR to TZS.

Ms Zaipuna further added that, cash currency exchange is now fast, easy and completely self-service with NMB currency exchange ATM"we have started with three major currencies - USD, GBP and EUR while more currencies in the pipe line." Said Ms Zaipuna
To ensure availability of reliable and efficient foreign exchange services in the country since the closure of Bureau de Change earlier last year; NMB Bank Plc quickly stepped in and offered the public (customers and non-customers) access of Bureau de Change services through our branch network given our footprint of 225 branches countrywide. Further, we also have bureau de Change facilities operating at KIA, JNIA- Terminal III, Clock tower and AIM Mall-Arusha.
This offering has again positioned the bank as a solution provider since the closure of Bureau de Change around the country last year. The government call through the Bank of Tanzania (BOT) for banks to step in and improve the cash foreign exchange services. NMB FX ATM machine, has come at the right time to bridge the gap in both service availability (24hrs) and safety.
About NMB:
NMB Bank Plc. ("NMB") is a full service commercial bank incorporated in the United Republic of Tanzania. Through its 4 main business divisions: Retail, Wholesale, Agri and Treasury, NMB provides a suite of financial services and products to retail customers, farmers, SMEs, Corporates, Institutions and the Government.
The bank has 225 branches, over 7,000 Agents (Wakala) and more than 700 ATMs across the country and is represented in all districts of Tanzania. NMB has over 4 million customers and employs over 3,400 staff. It is listed at the Dar Es Salaam Stock Exchange and its largest shareholders are the strategic partners Rabobank with a 34.9% shareholding and the Government of Tanzania with a 31.8% shareholding.
Euromoney awards for excellence selected NMB as the "Best Bank in Tanzania" for 8 years in a row from 2013-2020. The bank has also been named The Safest Bank in Tanzania for the year 2020 by Global Finance Magazine. NMB Bank was also awarded as the Best Blended Finance Partner in Africa for banks working with International Finance Corporation (IFC) of the World Bank Group in 2019. Also the Best Retail and Best Commercial Bank in Tanzania by the Banker East Africa Magazine in 2018.