NMB Bank has raised TZS 100 million that will be spent on treating children with cancer at the Muhimbili National Hospital. The amount was raised over the weekend through a charity race titled NMB Bima Marathon 2020.
Gracing the event, Prime Minister Kassim Majaliwa commended efforts by the bank in coming up with this charity marathon to help mobilize resources for the noble cause while sensitizing the public about the benefits of insurance products.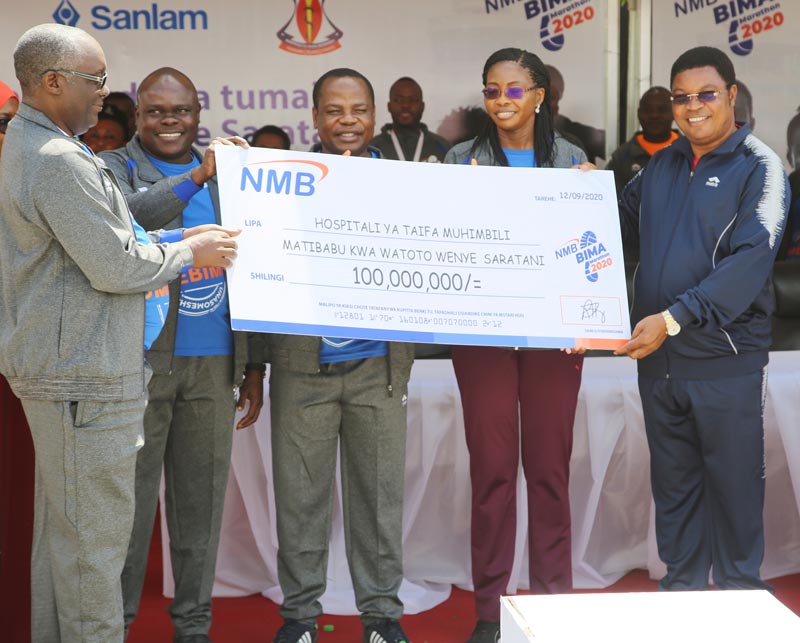 Prime Minister Kassim Majaliwa (right), NMB CEO, Ruth Zaipuna and NMB Board Chairman Dr. Edwin Mhede handing over a dummy cheque of TZS 100 million to Muhimbili National Hospital Managing Director, Prof. Lawrence Museru (left) to cover medical costs for children suffering from cancer during NMB BIMA marathon event held in Dar es salaam. Second left is Sanlam East Africa CEO, Julius Magambe.
Majaliwa further noted that Non-Communicable Diseases(NCDs)remain a major challenge in the country hence both public and private sectors should work together to address the situation. Speaking at the event, The NMB Bank Plc Board Chairman, Dr. Edwin Mhede said the bank and its insurance partners are collaborating with authorities to fight against cancer and other NCDs.
"As the government under its Development Vision 2025 focuses on strengthening health systems and committing further investments in the health services, our support today aims at ensuring children suffering from cancer have access to treatment so they can achieve their dreams and contribute to the betterment of our nation," he said.