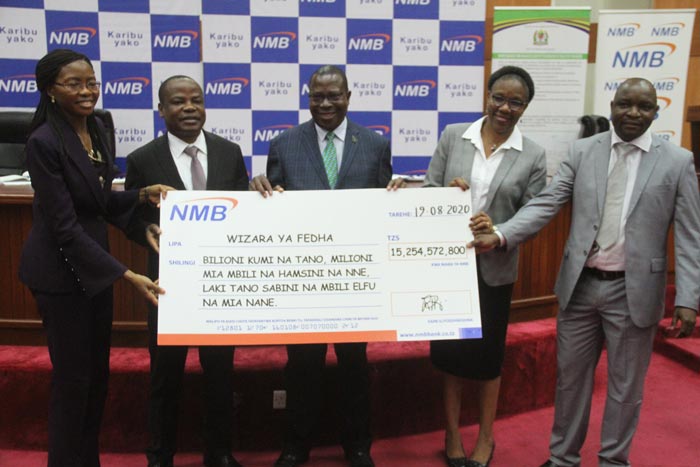 Dodoma, August19, 2020 -The best and most profitable bank in the country, NMB Bank Plc, handed-over TZS 15. 2Billiondividend to the government yesterday, in Dodoma.Presenting a dummy cheque to the Minister forFinance and Planning Hon. Dr. Philip Mpango, the NMBBank'sChief Executive Officer– Ms.Ruth Zaipunasaid the dividend channeled to the government is part of the 31.8% shares it holds in NMB.
In June this year, at the Annual General Meeting held in Dar es Salaam, shareholders approved TZS 48 Billion dividend to be distributed to shareholders, of whichTZS15.2 Billion has been paid to the Government.  In addition to the dividend, NMB Bankpaid over TZS 170.8 Billion to the government as taxes ranging from PAYE, CorporateTax, Skills and Development Levy, ExciseDuty and VAT on services.
"We are a reliable and stablebank focusing on innovation and technology with a strong balance sheet," said Ms.Zaipuna, adding that the current country'sbusiness environment provides enormous opportunities of which NMB with the largest network and invested digital banking solutions is ideally positioned to support the citizens and business community in reaching their goals. "We remain vigilant in balancing our objectives of sustainable growth, cost efficiency and prudent risk management"
Receiving the dividend, the Minister for Finance and Planning –Hon. Dr. Philip Mpango said he washappy to continuously receive a growing dividend from NMB, calling other companies in which the government has shares to emulate the practice shown by the bank.
"NMB is leading by example, they have been a leading profitable bank in the Banking Sectorin Tanzania. NMB is capitalizing on opportunities available in the country to do sound and profitable business," said Dr Mpango.
Dr.  Mpango added that "If others did the same as NMB ondividend, we would witness a great improvement in the provision of social services for Tanzanians and also contribute to the various strategic government projects in progress." 
NMB is one of the government's privatized companies that has been making profits consistently   for the past 11 years. NMB Bank, in this time frame has paid overTZS 134Billion in dividendto the Government.