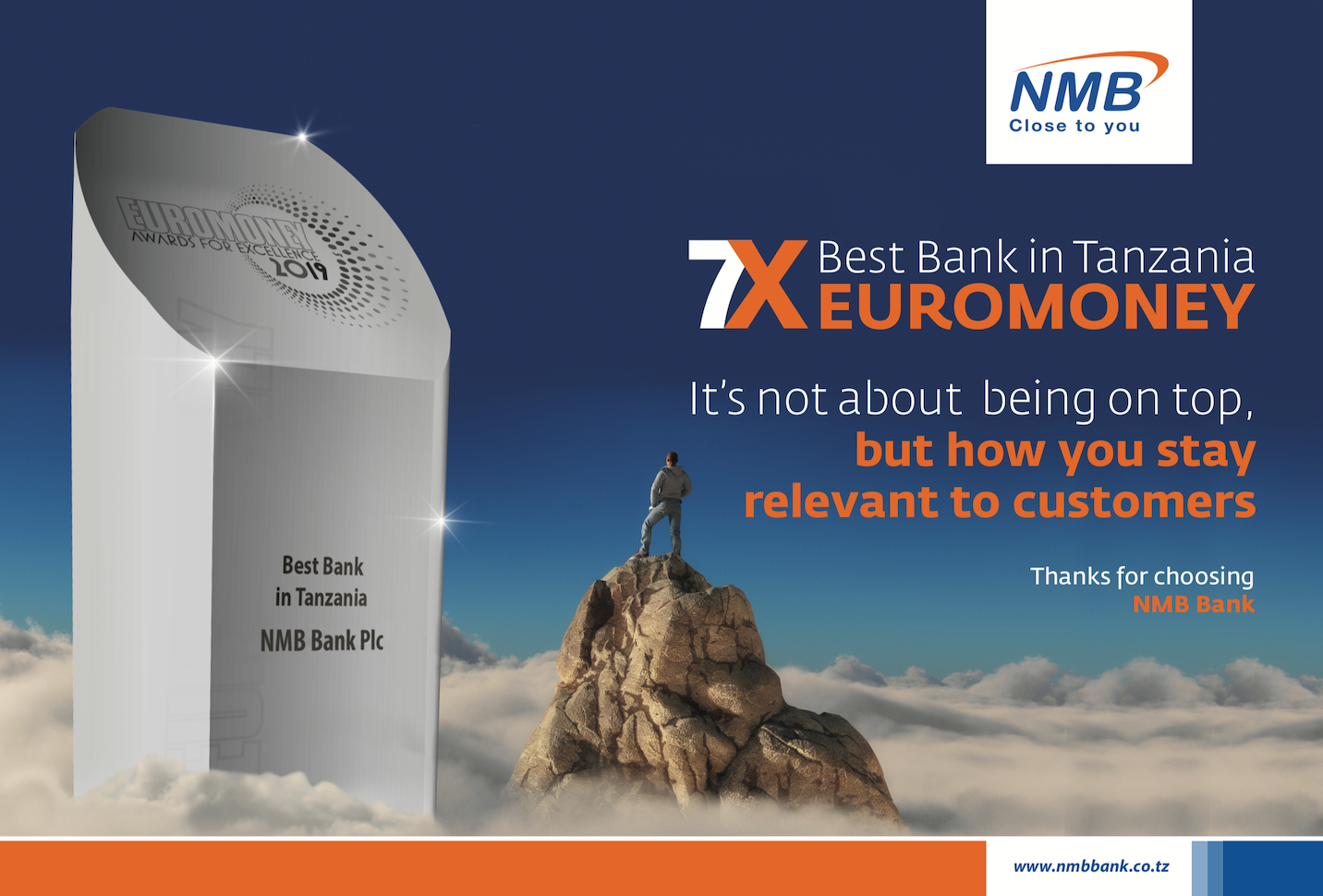 NMB Bank PLC has for the 7th consecutive year scooped the Best Bank in Tanzania 2019 award by Euromoney Magazine outshining over 40 other banks operating in Tanzania. This is a top award issued by the leading global financial markets magazine based in London.
NMB Bank being one of the key players in financial inclusion in the country, has consistently strived to provide innovative financial solutions to Tanzania's banked and unbanked. Supporting the nation's financial inclusion agenda, NMB Bank has pioneered revolutionary products and services, maximizing on technology to enhance customer experience through the bank's branches, NMB Wakala network and digital platforms such as NMB Mastercard, NMB Mobile, NMB KLiK and Internet Banking.
This award reflects the progress NMB Bank has made in delivering a banking experience that captures what customers need today and tomorrow, making it the best for financial inclusion.
NMB's Interim Managing Director Jonkergouw said in a statement: "We are today the bank that works, rather than one which exists. Tough decisions around capital, businesses and people have been made. Throughout that process, we have continued to deliver strong financials and pay industry-leading dividends to shareholders."
He added: "We are leveraging on the best of technology in digital banking, innovative products and our extensive branch network and Wakalas add real value to our customers' lives.
Winning the Best Bank in Tanzania award is a clear indication that our efforts are recognized not only in Tanzania but across the region. We acknowledge the dedication of our staff, and thank  our valued customers for being part of this digital journey."
The Euromoney Award confirms the bank's investment in digital transformation and technology has further strengthened its ability to deliver innovative solutions to the market.
Describing the selection criteria and reliability of the results, Euromoney's editor explained: "We have received almost 1000 submissions from banks in our awards programme which covers 20 global awards, more than 50 regional awards, and best bank awards in close to 100 countries. This year our most successful banks have clearly defined what their core strengths are, and built their businesses around them."
This year's Euromoney Awards for Excellence 2019, doubles Euromoney's 50th anniversary as the most prestigious awards in the global banking industry, welcoming over 500 senior bankers around the world at the Tower of London recently where banks based in developing markets made a greater impact in the awards than ever before highlighted with NMB Bank being named the Best Bank in Tanzania.