NMB Bank PLC has partnered with Halotel Tanzania to provide the best ICT services to government schools.
The partnership seeks to provide computers and internet connections to schools with the aim of improving ICT learning and teaching in both primary and secondary schools.
Under the agreement, NMB Bank will continue providing computers to schools while Halotel Tanzania will provide internet connections to help schools cope with the fast growing technology and simplify learning.
The Partnership agreement is for two years where NMB Bank will provide over 350 computers to 100 schools with internet connection from Halotel. For the past 4 years, over 600 computers have been distributed to schools with over 400 others to be handled in this financial year.
Speaking at the signing ceremony, NMB Bank's Managing Director – Ineke Bussemaker said that the bank is committed to using part of the profit the bank got to help communities in the country through their Corporate Social Responsibility.
Ms Bussemaker said "For years, NMB through CSR initiatives have directed its focus on fostering education access to local communities by donating school desks, construction of classrooms and also supporting them with computers for ICT learning and teaching, this partnership signifies that we are making steps ahead through technology".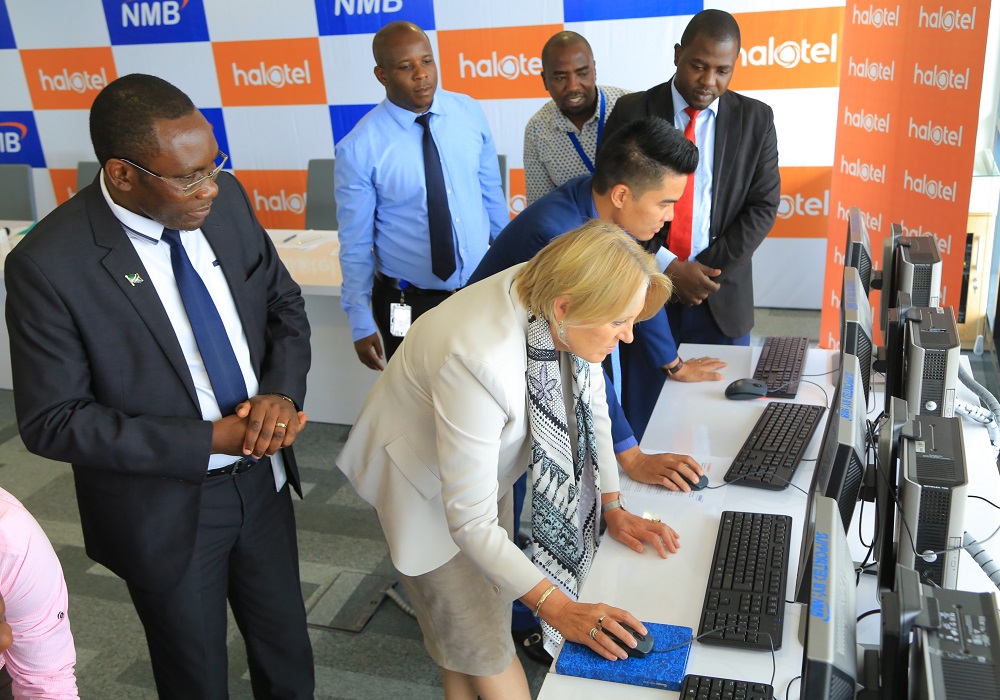 "Under this partnership of strength with Halotel, we will provide computers to more government Schools and Halotel will connect them with internet. We will also look on the schools which Halotel have already built the infrastructure for internet connection and we will provide computers." Said Ms Bussemaker.
Ms Bussemaker further said "for the year 2018/2019, we already have 350 computers to donate; we believe they will make a big impact in learning ICT in schools and later cope with the changing science and technology.
On his part, The Acting Managing Director of Halotel Tanzania – Nguyen Van Son said this is not the first time for Halotel to support education sector in the country, the company has supported several initiatives towards the development of education sector in Tanzania and have already provided Education facilities like School desks, books, bags and connected free internet to more than 417 Schools across the country.
Different from other similar initiatives, Halotel in collaboration with CoICT of the University of Dar es Salaam have developed a learning platform called Halostudy (http://www.halostudy.ac.tz/) with content of Science and Mathematics covering all subjects from Form I to Form IV of the curriculum of secondary school of Tanzania. The developed content has been integrated with multimedia elements such as videos, audio, sound and animations in specific areas where content is difficulty to understand using text alone.
"We are very sure that this project will increase the desire towards the use of Halostudy Platform to allow students and teachers access and utilize this platform for positive performance in their studies and thus brings positive impacts in education sector. Halotel will invest more to facilitate government schools with internet connection to improve ICT in teaching and learning ". Said Mr. Son.
 "This partnership is a clear demonstration of corporate companies teaming up to support the country's education sector while installing ICT technologies to play a role in teaching and learning in government schools." Added, Mr Son.
Integration of ICT in education into the idea of teaching-learning always places pedagogy over technology. It is not only about using technology and being an expert on ICT but also making the learning process more attractive, joyful and engaging for both teachers and the students. This integration will help students to promote initiation, creativity, and critical thinking.