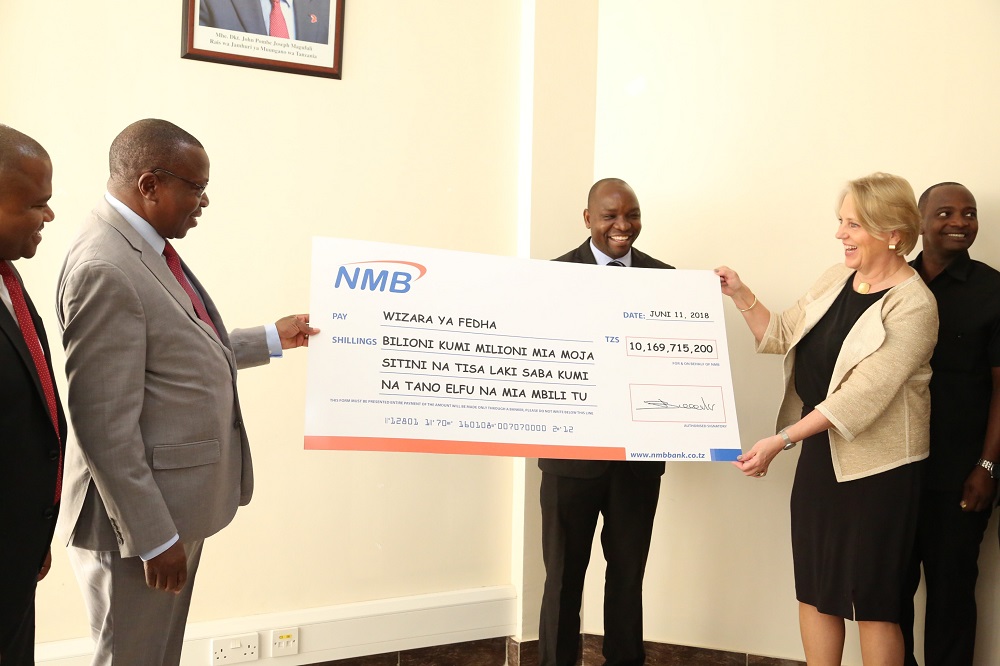 Dodoma, June 11, 2018 – After the Annual General Meeting (AGM) held on 2nd June 2018, the bank's shareholders approved a total of TZS 32 billion (i.e. TZS 64 per share) as dividend, out of the 2017 after tax profit of TZS 94.8 billion. The Government owns 31.8% of 500 million shares and has received TZS 10.1 billion. In 2017, NMB remains the most profitable bank in the country. 
In addition to the dividend, the Bank has contributed to the growth of the economy and to the government treasury by way of paying government taxes. Tax payments, a major source of government revenues, is comprised of corporate tax, value added tax, excise duty, withholding tax, Pay As You Earn (PAYE) and Skills and Development Levy (SDL). In total NMB has paid taxes at an average of TZS 115 billion per year amounting to about TZS 460 billion from 2014 to 2017. 
The Bank's Managing Director, Ms. Ineke Bussemaker shared the Bank's future outlook which is driven by technology to deliver products and services to millions of Tanzanians. Branches will continue to be major service points for customers, but more payments will be made through digital gateways, customers will use their mobile phones for both payments and loans, Wakala will provide banking services where branches are further away in order to continue being close to our customers, Karibu Yako! 
"NMB continues to be a great example, I understand 2017 was a tough year for the financial sector but NMB came through with great achievements. The bank's contributions in Taxes to the government is a good example and I commend them for that. Other banks should follow their example" said Minister of Finance and Planning - Dr. Philip Mpango at the dividend dummy cheque handover ceremony.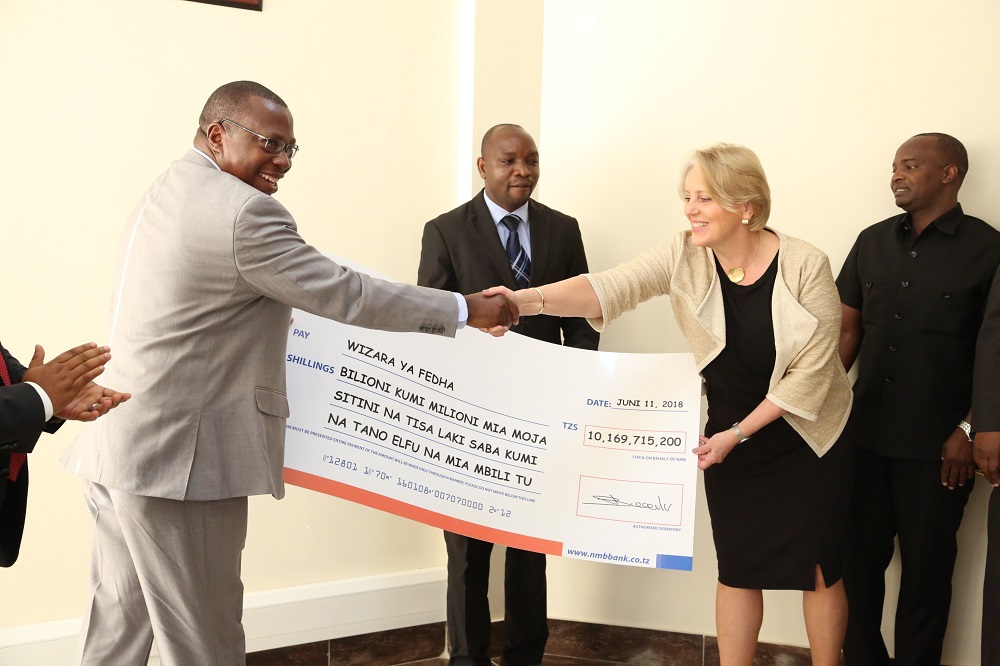 The Finance Minister added that, if three or four banks paid as much taxes to the government as NMB has, then the government could do more to support development projects. He commended NMB for the outstanding performance which has seen Treasury reaping fruits of its investment.
The economy will benefit when financial inclusion increases and the society moves away from largely cash to predominantly electronic payments and collections. Cash underneath the mattress doesn't contribute to the economy. NMB Bank is ready to expand on financial inclusion and to provide more financial services to the important agri sector across the country. In achieving its objectives, NMB will try to further intensify the relationship with the Government, its key partner.
By growing its customer base, NMB Bank will grow its income, profit and dividend payments.