Awarded the Best Retail and Best Commercial Bank in Tanzania
Dar es Salaam, May 14, 2018 - NMB Bank PLC has scooped two awards at the Banker East Africa Awards held in Nairobi over the weekend.
At the Award Ceremony, NMB Bank Plc was named the Best Retail Bank and the Best Commercial Bank in Tanzania outshining over 40 others in the country to win the prestigious awards. This is the fourth time that NMB has won the Best Retail Bank and the first time that it has won the Best Commercial Bank in Tanzania. The first time was in 2013, 2014 and 2016.
The annual Banker Africa Awards are continent-wide programmes open to all banks and financial institutions in Africa. The Awards recognize outstanding performance and excellence in the financial services industry.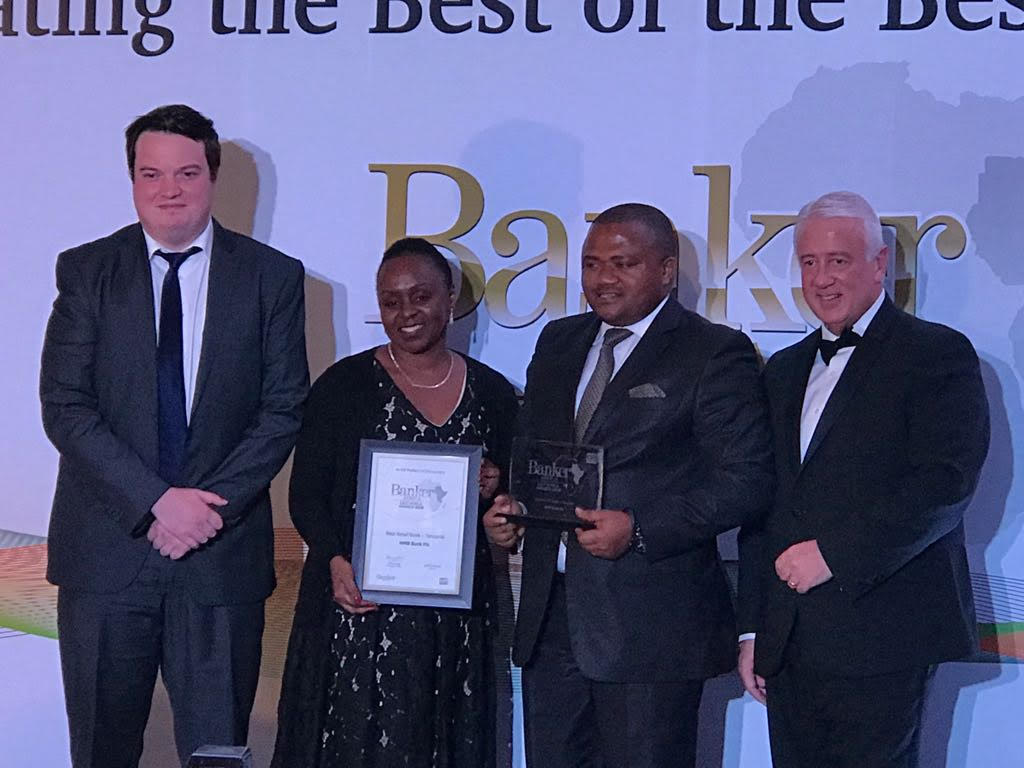 Above: The NMB Bank's Business Head – Retail, Abdulmajid Nsekela (second right) and NMB Bank's Head of Trade Finance – Linda Teggisa posing with two awards they received on behalf of NMB Bank from Banker Africa – East Africa Awards. With them are the CEO of CPI Financial - Tony Long (right) and Banker Africa Editor –Mathew Amlot.(Left).
"Our Awards programmes are designed to reward and promote excellence and competition in the drive to set new standards in the industry in quality of service, best practice and financial performance." Reads part of writing in the Banker Magazine website.
The NMB Bank's Managing Director Ineke Bussemaker said "We are exceptionally pleased to again have international recognition for our achievements, this is a testimony of our investment in technology while expanding our branch network and strengthening our ability to deliver innovative solutions to the market."
This is the first international award for this year after winning the Euro money 2017 Awards for Excellence where the bank was named the Best Bank Transformation in Africa for the first time and the Best Bank in Tanzania five years in a row last year.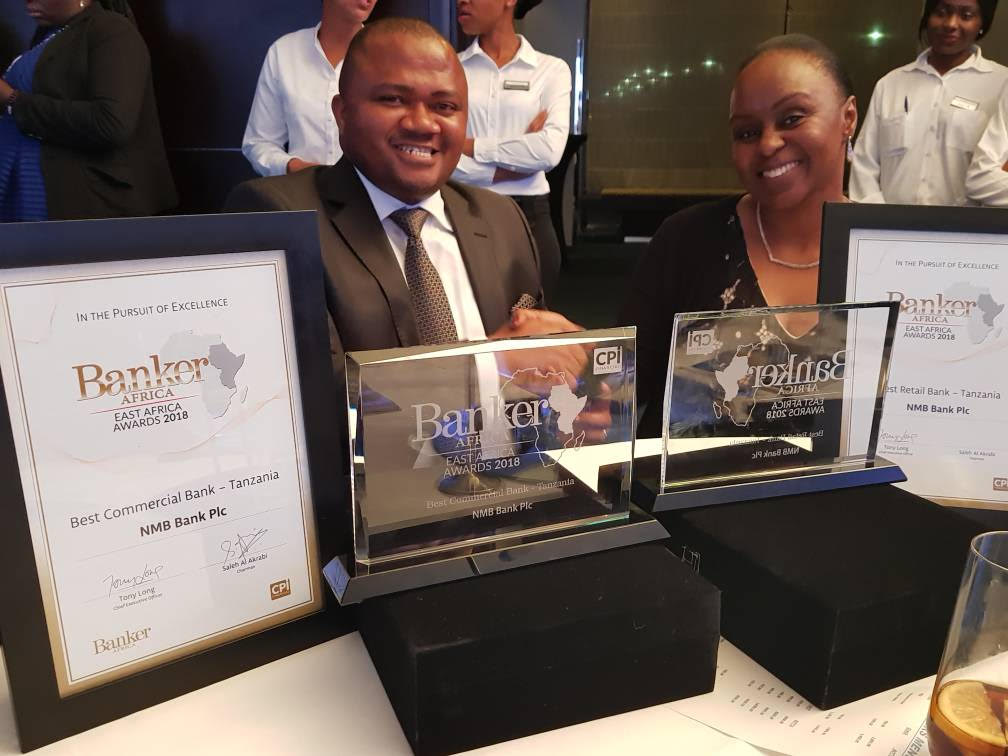 In the last one year, Ms Bussemaker said "the Bank has introduced innovative products and services and continues to meet its customer's finance needs, thereby filling the gap that some other banks have left in the market."
Ms. Bussemaker said that the bank's investments in technology have allowed them to offer relevant transactional solutions to customers while improving customer service.
Ms Ineke further said that "the award is a testimony of our service delivery plus serious investment in technology and our commitment towards making financial services accessible to all Tanzanians.  
"We do so by combining our network of branches, ATMs and Wakala with modern digital financial services, via the internet, Apps, portals and the mobile phone. "Said Madam Ineke pointing that the bank has over 220 branches, over 6000 NMB Wakala agents and over 800 ATMs across the country.
Banker Africa, a Dubai-based company, recognizes banks for outstanding performance in the various categories such retail, corporate, commercial, investment, socially responsibility, SME and customer service.