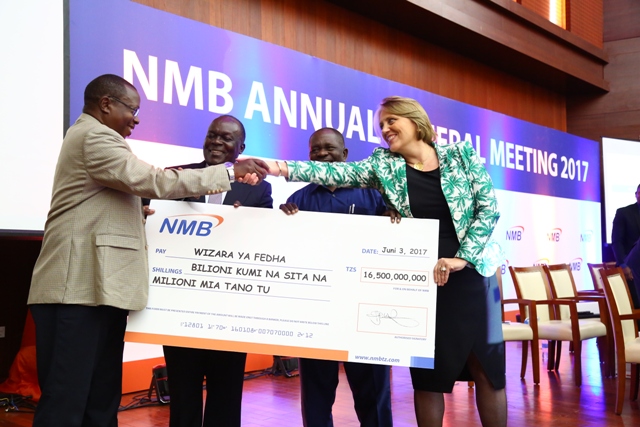 NMB shareholders approved the proposed amount during the Annual General Meeting (AGM) that was held in Dar es Salaam on 03 June 2017.
The total recommended dividend payment of TZS 52 billion is in line with the bank's dividend policy of paying a third (33.3%) of its profit after tax (PAT) in dividends.
The bank reported a TZS 153.8 billion profit after tax (PAT) for the year ending December 31 2016; a 2.3% increase from the TZS 150.3 billion that was recorded in the previous year. Besides the said profit gains, NMB is pleased to be able to report a number of innovations and successes during the year. The innovations, the launch of Pamoja and Wajibu propositions, the establishment of 1000+ Wakala's and the integration with over 150 local councils for electronic collections, are all contributing to enhanced financial inclusion through digital channels and increased deposits. The stable B1 credit rating awarded to NMB by Moody's confirms the confidence of international investors in NMB. The domestic Tanzanian retail investors showed their trust in the bank by twice oversubscribing the NMB retail bond issue.
The Bank's Chairman, Prof. Joseph Semboja, revealed that the Board seeks to balance maximizing shareholders' return while also reinvesting funds back into the bank's business in order to finance its growth plans.
"NMB has over the years maintained a healthy capital position and we intend to continue doing so. To achieve this, it is crucial that we make the right decisions especially with the upcoming regulatory changes in capital requirements." said the Chairman.
The capital adequacy ratios for banks in Tanzania are set to change in the near future following the Bank of Tanzania's requirement for all commercial banks in the country to fully comply with Basel II regulations and new international accounting rules for loan loss provisions. In the short term this may put pressure on the level of profits that Tanzanian banks can distribute.
"NMB is committed to continue to support the development of the Tanzanian economy, also in the current challenging circumstances. At the same time we need to ensure adequate profit levels to improve our capital position." added Ms. Ineke Bussemaker, the Bank's Managing Director.